Hello!
To start my blog, I wanted to post about something that I really like, and what better than my favorite game: SuperStar SMTOWN?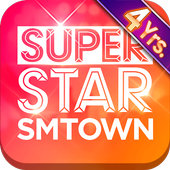 The game is a rhythm game developed by Dalcomsoft Inc. in september 2014 and distributed by SM Entertainment. The game includes songs from SM's artists like BoA, Girls' Generation, SHINee, EXO, Red Velvet, NCT and others.
At the game you can upgrade your cards from various artists to the rankings C to the Royals. The higher your card is, the higher your score will be.
You can play at the Weekly League, but you can also play on the Superstar League, where you compete with all of the players from the whole world. A new song is randomly chosen every day  and you have to play it to have the highest score among the players.
So, I hope you enjoyed the first post and want to download the game.
Bye!